Imagine the opening day of the 2026 FIFA World Cup™.
Three games across three countries-Canada, Mexico and the United States-with huge FIFA Fan Fests™ in each Host City and across North America.
It would be an opening day like no other, and it's what we have proposed in our historic United Bid. It's another example of how, as we discussed in our last letter to you, our bid can be counted on to deliver the experience, infrastructure and resources required to successfully host the largest-ever FIFA World Cup™ in 2026.
A three-match, three-country opening day would be an unprecedented international celebration of football and an inspiring kick-off to the largest FIFA World Cup™ in history. From the opening whistles, it would also mark the beginning of a new era in football.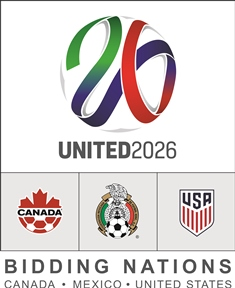 The new, expanded FIFA World Cup™-48 countries and 80 matches-will be an extraordinary undertaking. By coming together in our United Bid, our three countries offer what no one country can provide alone.
The 23 cities that will compete to be one of the final 16 Host Cities offer world-class stadiums , training sites and base camps that are already built and operating. With our advanced transportation network, players and fans will be able to travel easily to matches across our three countries.
In this sense, 2026 has the opportunity to help create a new legacy-a blueprint for the joint bids that FIFA envisions for the future and that advances the FIFA 2.0 reforms. This includes competitions that are commercially successful and environmentally sustainable.
In short, the choice that our FIFA family makes on June 13 in Moscow will be a strategic decision about the future of football for the century to come. A successful 2026 FIFA World Cup™ hosted by our three countries would help open the door for countries around the world-
large and small-to come together to host future competitions as neighbors and friends.
Steven Reed, Decio De Maria, and Carlos Cordeiro
Co-Chairmen
United Bid Committee