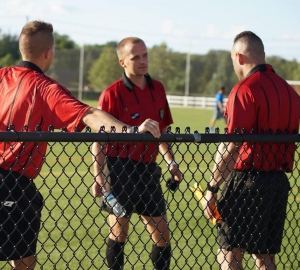 Also known as Bartek, he is a State Referee, born in Wroclaw, Poland.
Long time GSSL and NJSA referee, he has officiated games in the MLS-reserves, PDL and various US Soccer tournaments.
Bartek is recognized as one of the best referee in NJ, by consistently placing in the top 5 of the standings of the NJSA referee evaluation system, year after year.
His good communication skills with players and managers, give Bartek the ability to manage the game with great effectiveness. He has much knowledge of the game of soccer from his original country, therefore his understanding of the game has shown his effects on the field.
When he was very young, his parents escaped with him from Communist Poland to settle in Germany. This is where he had his first soccer kicks by the age of 7, by playing for the team DJK Bayern Nurnberg.
After the fall of the Berlin's wall and the end of communism in Poland, he returned with his parents to their motherland and continued to play soccer for SCS Amico Lubin and MKS Zagłębie Lubin.
In college he joined the 3rd division team in Poland called Wart Poznań, where he played as a student until his graduation as physical education teacher in 2005. During the time in college he was able to practice martial arts, especially Karate Kyokushin. He was also practicing gymnastics and other team sports like volleyball and basketball. Heavy training, tournaments and games exploited his knee and he had to stop playing soccer and focused as a martial arts instructor.
In 2008 he moved to USA, where he continued his passion to soccer. Unable to play, he signed up for the US Soccer referee entry level class in Eastern Pennsylvania. He then transferred as referee to New Jersey, where he was officiating games since, for the NJSA. In 2011 he torn his ACL during a W-League game and was forced to stop officiating. After surgery and rehab, he returned to be a referee and is making progress to upgrade to National Level.