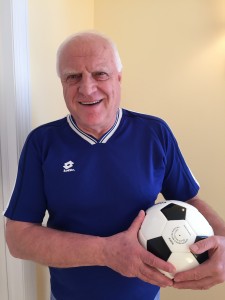 Dzemaludin "Jimmy" Harba was born June 14, 1948 in Sarajevo, Yugoslavia. After playing professional soccer in Bosnia, Jimmy was scouted and invited to play professionally in the United States in 1973. It was in the U.S. that Jimmy would make his home and impact countless lives on and off the field. 
Jimmy's career spanned every level of professional soccer in the United States, starting with Croatia SC in the German American league, where he was selected as a NY State All-Star to play against Werder Bremen in 1974 and Dukla Prague (1975). Jimmy was then scouted and signed to a professional contract in the NASL, playing for the Hartford Bicentennials for two years, before becoming champion of the German American League with the Brooklyn Italians.  In 1977, he was named captain of NJ Allstars vs. NY Allstars at Giant Stadium and later received his USSF coaching license in 1979. 
He then became a player/coach with Haledon, winning the 2nd Division championships and promoting Haledon to the 1st Division of the Cosmopolitan Soccer League in 1978. In 1979, Jimmy came to New Jersey to join the Hoboken Soccer Club and make his permanent home in the Garden State. He has been with the Hoboken Soccer Club for 32 years, within that time becoming the first professional soccer player in the United States to become a doctor, receiving his D.M.D. from Fairleigh-Dickinson University in 1987. Jimmy also received the Military Order of the Purple Heart in 1997 for his humanitarian work in the Bosnian war. 
At every stop in his career, the one constant has been Jimmy's love for teaching soccer. Jimmy has taught thousands of youths across the United States, spanning across four decades, instilling his passion and desire to show his philosophy that soccer is an art form, the beautiful game. He has also taught them the determination and discipline he needed to achieve his goal of becoming a D.M.D. His impact on the game of soccer in New Jersey crosses generations and has inspired everyone he meets.
Jimmy is joined by his family, his wife, Karen, son, Kurt, and daughter Murisa.