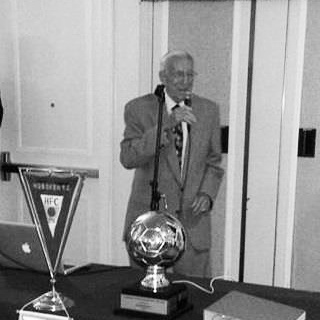 Edward "Eddie" Mazurczyk, 90, of Belvidere, NJ passed away peacefully on September 1, 2016, at St. Luke's Warren Campus with his loving wife by his side.
He is predeceased by three brothers and two sisters.
Born on November 28, 1925, in Jersey City, NJ, he was the son of the late Laura and Stanley Mazurczyk.
Prior to moving to Belvidere, NJ in 2000 he resided in Hasbrouck Heights, NJ for 45 years.
Eddie was a graduate of Weehawken High School Class of 1943. When he graduated high school he earned a tryout with the Brooklyn Dodgers. Eddie proudly served his country as a member of the United States Army.
He worked as a data processing manager for the Mabon Nugent Company on Wall Street for 40 years and retired in 1988.
Eddie was a life member and former president of the Hoboken F. C. 1912 Soccer Club for 82 years. He was a sports enthusiast and loved playing and watching soccer and golf.
He was member of the Brookfield Golf Association. He also was a big fan of the New York Rangers. Eddie loved spending time with his children and grandchildren and did so as often as he could. He vacationed with them every summer on Hilton Head Island, SC, where he enjoyed crabbing and sharing his catch of the day with his family.
Eddie also enjoyed cooking and tending to his vegetable garden. In addition, he was a terrific dancer! Eddie was a parishioner of St. Patrick Church, Belvidere since his move to the area in 2000.
Eddie will be missed by all he knew; he made many great friends throughout his long life and his spirit will be remembered by many.
Surviving are his wife of 61 years, Florence; children Deborah Melton and husband Dennis of Center Valley, PA, Denise Walkowicz and husband Dale of Center Valley, PA and four grandchildren, Brittany Melton, Drew Walkowicz, Ethan Walkowicz and Victoria Melton.
A Mass of Christian Burial will be held 11:00 AM Tuesday, September 6, 2016, at St. Patrick R.C. Church, 327 Greenwich Street, Belvidere, NJ. Interment will follow at the Belvidere Cemetery.
Friends may call from 2:00 PM to 5:00 PM Monday, September 5, 2016, at the MacFadden Funeral Home, 325 Hardwick Street, Belvidere, NJ.
Contributions can be made in his memory to Community Visiting Nurses Association, 200 Coventry Lane, Phillipsburg, NJ, 08865 or the Visiting Homemakers, 18 Broad St., Washington, NJ, 07882.