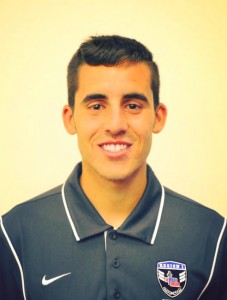 Kevin Cavalcanti is a native from Teaneck, New Jersey.
Born on December 22, 1994 in New York City, Kevin was raised by a family who are passionate about the beautiful game of soccer.
Kevin's parents, Paulo and Marcia, came to the United States at a very young age from Brazil in pursuit of new opportunities.
Throughout Kevin's youth soccer career, he played for various prestigious youth teams in the tri-state area such as, New York Red Bulls and World Class FC. He also played for the Olympic Development Program State team and later on went to play in regional and national events.
Kevin graduated from Paramus Catholic High School where he earned four varsity letters, second team all-conference award, and two league titles.
Currently, he is a junior in college, pursuing a bachelor's degree in International Business with a minor in Computer Science at New Jersey City University.
Kevin is also part of the men's soccer team at the college he attends, which is a NCAA DIII school. They compete in the NJAC conference, which is known to be one of the toughest in the country. During college off-season, Kevin plays for FC Bergen, which recently got promoted to the Super Division this year.