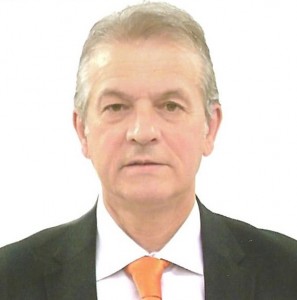 Saverio Amato, born in Molfetta Italy, arrived in the U.S. on April 15, 1972 and became a US Citizen in 1975. Immediately upon his arrival, he began an active soccer career in his new country.
During his career as a player, he was part of organizations such as Molfetta FC (Schaefer League), Juventus Soccer Club and MSG of Hoboken (Italian American League).
In 1980, Saverio continued his passion for soccer by helping to form a youth soccer league in Hoboken, NJ. In this league he started his career as a coach and referee. He actually volunteered his time to perform referee services for the youth league to help get it started.
While officiating in the youth league, a NJ State referee named Tony Todaro observed Amato's work and after the game asked if he was interested in becoming "a real referee". Mr. Todaro invited him to attend the following referee meeting at Farcher's Grove. From that point on there was no turning back, the meeting immediately sparked Mr. Amato's interest and he entered the referee training school and became an official referee for the NJSA in 1983.
Mr. Amato began his referee career as a youth ref. As he gained more experience he was chosen to attend the regional youth finals where he traveled all over the country for over 5 years. He continued moving up the referee ladder and started to referee Amateur games assigned by Charlie Stillitano and John Zangrilli. He further upgraded his status in 1996 and became a USSF National Referee.
Throughout the years, Mr. Amato achieved numerous honors and rewards such as 1991 NJ Youth Association Referee of the year, 1992 NJ Referee State Association Referee of the Year, 1993 Northern County League of NJYSA Referee of the Year, 1996 LISA Referee of the Year and 2000 NJSA Referee of the Year.
Saverio has had the privilege to referee soccer at all levels of play. Youth, Amateur, College, Professional, International, etc. At the Top level of U.S. Soccer he worked over 50 International games. Due to his ability and reputation he was chosen to referee the World University Games in Buffalo and the '93 US Cup. Notable International matches have been Parmalat Cup, Columbia vs Nigeria and Benfica vs Boca Juniors.
Other notable referee accomplishments have been Division 1, 2 & 3 Finals, Ivy League Finals, NCAA Quarterfinals and Semi-Finals, '91 National Cup Finals in Brooklyn, '93 National Cup Finals in Indiana, '95 USISL Final between Long Island Rough Riders and Minnesota, National USASA Amateur Select Team Tournament, National Amateur and Open Cup. The list goes on and on.