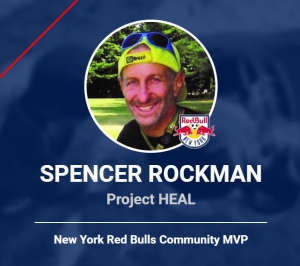 Each year, Major League Soccer and Wells Fargo proudly recognize individuals who are using soccer to improve the lives of others. Each of the 23 MLS franchises select an individual. 
Spencer Rockman has been selected by the New York Red Bulls for his dedication and contributions to soccer as well for the caring of others less fortunate.
Spencer, along with his wife, have cared for 30 foster children over 20 years, and he can be found volunteering his soccer talents at fundraisers such as Children's Tumor Foundation, 'Kicks for Kids with Cancer and Blood Disorders,' Hope Food Pantry, in addition to international programs with new Ethiopian immigrants.
Spencer is the 1974 co-founder of the preeminent Edison United Soccer Association for youth, men, and women, and served 13 years as President. He was inducted in the NJ Youth Soccer Association Hall of Fame in 2013 and the NJ Soccer Association Hall of Fame in 2017. He's also the co-founder of Garden State Soccer League.
Beginning now through August 1st at 2 PM ET, you can vote for the 2018 MLS WORKS Community MVP Grand Prize winner.
Go to:    mlsworkscmvp.com
You can vote using ANY media (your PC or Facebook, or Twitter or anything…) : just make sure that after you click to cast your VOTE , you go to the bottom of Spencer's achievements and CLICK ON THE BOX TO INDICATE THAT YOUR VOTE IS NOT A ROBOT.
The MLS will make a donation of $25,000 to the Charity chosen by the individual out of the 23 finalists that receives the most number of votes.